Zipline Tours in the Blue Ridge Mountains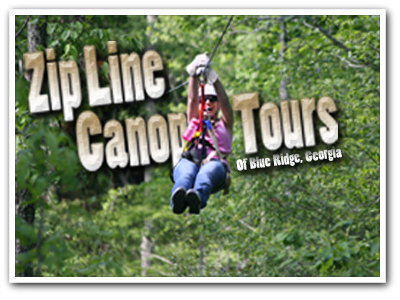 Zipline Canopy Tours of Blue Ridge is set on a 165 acres of beautiful North Georgia Mountain property. We are located only 6 miles from downtown Blue Ridge, GA. We offer a one-hour tour with seven multiple ziplines and a two-hour zipline tour that features one mile of cable with 13 multiple ziplines with other features listed below. All our zipline tours are guided and require no experience, but we do require all participants to be at least 10 years of age and between the weight limit of 70 to 250 pounds. Please note that Zipline Canopy Tours is at a different location than the Blue Ridge Adventure Park.
Two-Hour Zipline Tour:
Price Per Ticket: $89.99
This zipline tour is the real deal. One of the best zipline courses in the industry.
With over 6,000 feet of cable, it includes 13 zips ranging from 150 to 1,000 feet and 3 sky bridges included to over as you travel from one zip to the other. You'll zip through treetops ranging from 25 feet to 75 feet in the air.
Everyone that experiences this tour loves it. Don't short yourself, you'll love it too!
One-Hour Zipline Tour:
Price Per Ticket: $49.99
This is a great tour. It's simply half of the Two-Hour Tour. It includes 7 ziplines ranging from 150 to 550 feet for a total of half a mile of ziplining.
You'll love it too and it's a good way to get you ready for the longer adventure next time!

During the off-peak season, our tours are limited. However, for parties of four or more, we can open tours on most dates provided we have a 24-hour notice.
Zipline Canopy Tours of Blue Ridge is located at 891 Old Cashes Valley Road, Blue Ridge, GA 30513. Call us at 423-496-3388 or visit www.ZipBlueRidge.com.