Ocoee Rafting
Whitewater Rafting on the Ocoee River in Tennessee!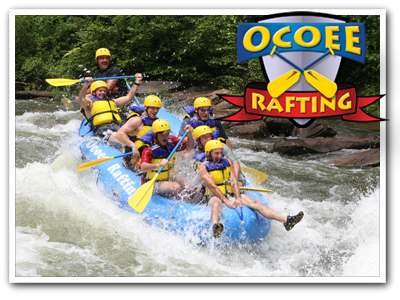 Welcome to Ocoee Rafting! As the oldest company on the Ocoee River, we have provided guided whitewater rafting adventures for 45 years. Since 1976, Ocoee Rafting has welcomed many to miles of challenging and exciting Class III and IV rapids on one of the country's premier rivers. Experience Ocoee River Rafting and feel the excitement of whitewater rafting on the Ocoee River.
The Ocoee River in Tennessee is a dam-controlled river with a short season of water release year. Even with only 100 days per year of water release the Ocoee River is still the most popular whitewater rafting adventure in America with a five mile stretch of river on the Middle Ocoee or a ten mile stretch of river on the Upper Middle Combo (Full River Trip). Rafting dates are limited to weekends in the Spring and Fall and Summer months tours are run five days a week.
No experience is necessary to enjoy the adventure of whitewater rafting on the World Class Ocoee River, but Tennessee State law requires all participants to be at least 12 years of age to participate. Our trained staff takes great pride in its ability to provide our guests with an action-packed, fun-filled adventure. Come join Ocoee Rafting for the finest whitewater rafting trip on the Ocoee River.
Ocoee Rafting is located at 1548 Hwy 68, Ducktown, TN 37326. We are only 12 miles from Blue Ridge, Georgia. Call us at 423-496-3388 or visit www.OcoeeRafting.com.